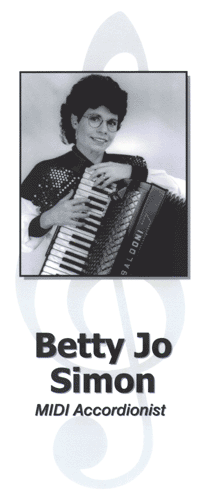 "Betty Jo's musicianship is outstanding."
- The Accordionaires


"Flawlessly fast fingering, heartwarming personality, skillful presentation, friendly informality...awesome to hear, and obviously stunningly beautiful to see!"
- The Milwaukee Accordion Club
For Inquiries Contact
Betty Jo Simon
10349 Century Lane
Overland Park, KS 66215-2201
phone: (913) 888-4706
email: betty@bettyjosimon.com
Betty Jo Simon
MIDI Accordionist
Betty Jo Simon brings endless enthusiasm to the stage for any occasion. A vivacious performer who enjoys intimate concert settings where she can talk with her audience, Betty Jo has a wide repertoire from which to choose. Her favorite? "Around the World with the MIDI Accordion."

She enjoys performing classical music the most, but she loves the schmaltzy stuff too and still likes to play as a strolling musician.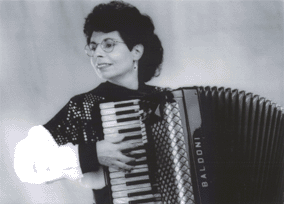 Her musical aptitude and love for the accordion appeared early. As a high school student, she became the first accordionist to win the instrumental division of the Youth Talent Auditions of the Topeka Civic Symphony. Betty Jo earned a Bachelor of Music in Accordion Performance from the University of Missouri--Kansas City (UMKC), where she played the world premiere of Paul Creston's Fantasy for Accordion and Orchestra with the UMKC Civic Orchestra.

She participated in USO tours to Greenland, Newfoundland, Labrador and Germany, and did a two-year stint with Fred Waring and the Pennsylvanians. Betty Jo now performs as a soloist throughout the United States and internationally. In 2000 she appeared on a Chinese satellite TV musical variety program aired on Chinese New Year and went on to give concerts in Beijing and Shanghai. In 2007 she won the Maddalena Belfiore Entertainment Competition for Female Accordionist and currently leads a German polka band called The Alpen Spielers. In August 2009 she performed as soloist with the Auckland Symphony Orchestra at three different venues, one being the opening concert of the 64th Annual Coupe Mondiale. (World Championship Accordion Competition)
Betty Jo Simon and the 2011 UMKC Accordion Orchestra
Betty Jo has been performing with a Baldoni MIDI accordion for many years now. Her accordion has been equipped with MIDI, or Musical Instrument Digital Interface, which is driven by computer technology. The MIDI device combines the beautiful tones of the acoustical accordion with the authentic orchestral sounds of the Roland U-220 sound module in a marriage of old and new that astounds all audiences.
She strives to project a positive image of the accordion through her concerts and hope to encourage others to take up the instrument by demonstrating its versatility using MIDI technology.
Albums